Our broad series of products regard to sustainable coating shades in several finishes of Interpon D AkzoNobel superdurable powders for applications in architectural projects and furniture frameworks.
Interpon D range of products, supplied by Andreas Jacovides Trading, provides impressive coating solutions for all performance demands and architectural environments and owns a more that 35 years of Global Track Record on most of the prestigious buildings over the world, e.g Lloyds Register of Shipping, London, UK – 1997.
The Interpon D powder coatings are based on high-performance TGIC-Free polyester technology. Interpon D encompass 3 product series which are available in quantities tested and approved to major international specification and quality labels. The key information table below provides a very short summary of all Interpon D series.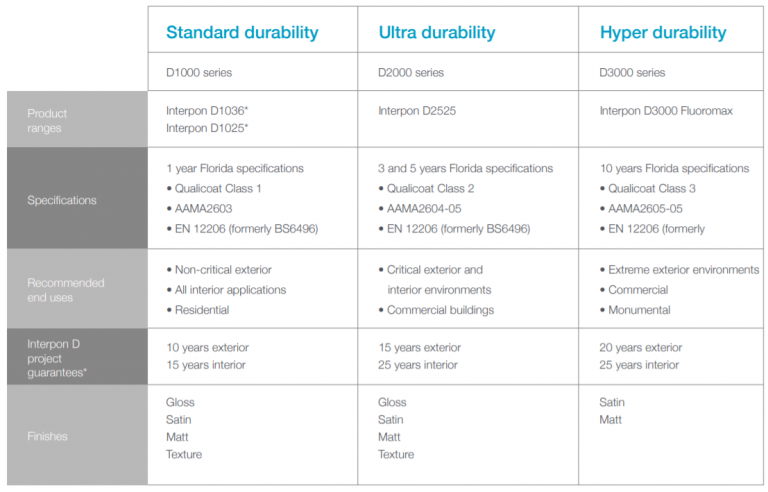 Interpon D2525 range
Based on the enhanced weathering conditions of Cyprus, Andreas Jacovides recommends the super-durable Interpon D2525 from D2000 coatings series (above table) for all architectural metalworks where optimum architectural, aesthetic, technical and economic performance is required.
Interpond D2525 product series comply with all major architectural quality standards (Qualicoat Class 2, GSB, AAMA and EN 12206) as well as Environmental Product Declaration (EPD); hence they are widely used on exterior metallic parts and surfaces, like Windows and doors, Facades, curtain walling, Sunshades and shutters, Fencing, railings and handrails, Ceiling tiles, Garage doors, Verandas, winter gardens, conservatories.
With the longest Track Report in super-durable powder coating Technology, Interpond D2525 products supplied by Andreas Jacovides Trading guarantee:
Color expertise
Wide stock range
High mechanical performance
Asset protection from weathering
Extended maintenance
Projects Guarantee
Limited chalking
Easy repair of coating damage
Minimal Environmental Impact
Andreas Jacovides offers the Interpond D2525 architectural powders in a comprehensive selection of colors and finishes, textures and gloss levels:
Collection Futura – The Latest fashion trends
Structura – Super-durable RAL colors
Structura FLEX – Super-durable & Flexible
Collection Anodic – Exclusive Metallic effect finishes
Commercial Buildings, Business centers, Hotels and resorts, Featured projects, individual Residences and Villas around our island are some of the building projects where Interpon D2525 products, supplied by us, have been implemented in the metal framework coatings since 2005. Above specimens clarify that Interpon D2525 super-durable powders present gloss retention and color stability of coating, providing outstanding exterior durability on applied building structures.